Holy cow! So many milk alternatives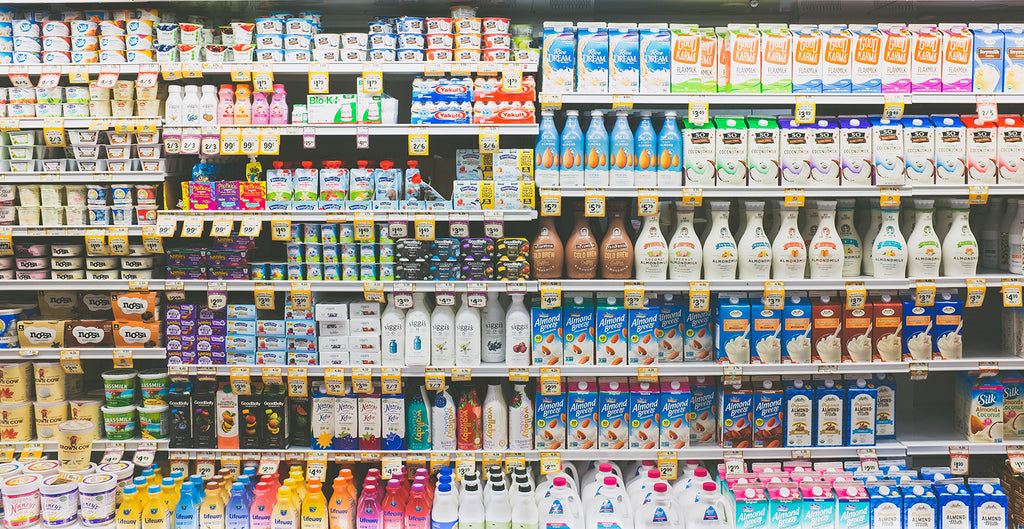 As more people choose alternatives to cow's milk, whether by choice or necessity, the milk alternatives vying for a place in your refrigerator are growing. Almond milk, soy milk, oat milk … even banana milk!
How can you choose?
And maybe some of you are asking, "Why should I choose a milk alternative?"
Research has shown cow's milk doesn't provide any special health benefit to adults, but so many of us have grown up with it that waving good-bye to milk can be really hard, so I get why some of you may be reluctant. Plus, it has lots of naturally occurring sugars, so it tastes pretty delicious as well.
The trouble with cow's milk is that some people can't tolerate either the lactose, a naturally occurring sugar, or casein, a protein, both found in dairy. Additionally, the hormones given to some dairy cows, as well antibiotics supplied when cattle are ill, find their way into the milk, which means those substances find their way into you. (No thanks.)    
Many of us enjoy unsweetened yogurt with breakfast (lots of good probiotics!), the occasional nibble of cheese at a party, or even an ice cream cone on a hot summer's day. When you can, choose milk products from grass-fed cows – you'll be getting a boost to omega-3 fatty acids and CLA that you don't get in milk from conventionally raised cows.
So many milk alternatives...
As I mentioned before, there are a LOT of options when it comes to replacing the moo in your morning coffee, lunchtime smoothie or weekend pancakes for the kids. So let's take a quick look at a few of those options.
Almond Milk
Even if you haven't tried it, you've probably seen almond milk in your local grocery store. Its nutty, slightly sweet flavor seems to agree with most palates. Almonds are a natural source for calcium, and while a cup of almond milk won't match the protein packed into a cup of cow's milk, it still makes almond milk a standout compared with many of the alternatives. Almond milk is good in most sauces and baking. If you're crafty in the kitchen, you may even want to make your own almond milk. You'll find easy-to-do options online.
Coconut milk
Made from the meat of the coconut, there are two kinds of coconut milk. The thick coconut milk you find in a can is excellent for cooking and baking, but you likely don't want to drink it – it is ultra calorie dense along with being super thick. Coconut milk beverages, like other milk alternatives, are not so thick and great for the usual milk purposes, such as in coffee or smoothies. Boxed coconut milk doesn't have much in the way of protein, but what it lacks in protein it makes up for in medium-chain triglycerides (MCT), a saturated fat known for helping reduce appetite and improving blood cholesterol levels. 
Oat Milk
Oat milk is trending! But does that make it worth it? With a good showing of protein and fiber (something the other milk alternatives don't have) the answer is yes! Oat milk has a thicker "mouth feel," which may remind you more of cow's milk and is making oat milk lattes all the rage.
Soy Milk
The granddaddy of milk alternatives, soy milk stacks up favorably to cow's milk when comparing calcium and protein content. Bonus for you cooks and bakers: According to the folks at OneGreenPlanet, soy milk's protein makes it excellent for savory dishes and sauces as well as in baked goods. 
Hemp Milk
This one is my favorite! Hemp milk provides plant-based protein and calcium along with essential fatty acids. On top of that, this alternative is low in carbs. Made from the hemp plant, it is related to cannabis, but hemp milk doesn't contain more than a trace of the THC associated with the drug. 
Pea Milk
Also relatively new to the milk alternative scene, pea protein makes this product another solid choice if you're concerned about protein. Added bonus: It has less sugar than cow's milk. With a mild flavor and a thicker texture than some of the other alternatives, those missing their moo may find pea milk to be a good option.
Rice Milk
Rice milk is a good choice for people with nut or other food allergies, but doesn't have much of a nutritional punch. Sweet and light, it can be a good choice for using in desserts.
Cashew Milk
Thanks to its creamy texture, cashew milk is popping up in vegan cheeses and other dairy alternatives like yogurt.
A final word on choosing a milk alternative
As with any processed food, it's important to choose wisely and look for those that are minimally processed. The shelf-stable varieties of any of these milk alternatives will have more ingredients on the label than their refrigerated counterparts. Using the "less is more" mindset, the fewer ingredients the better.
While most of these "milks" are composed of their main ingredient (almond, oat, soy) plus water, many do add thickeners and stabilizers. Added ingredients aren't necessarily bad, but some you can do without. In particular, watch out for:
Added sugar – Many brands try to win us over via our sweet tooth, but we just don't need the added sugar in our diet. 
Artificial flavors – Just like the added sugar, you don't need added flavors such as vanilla. Try the unflavored varieties of several alternatives and see which one has a natural flavor you like best.
Carrageenan – Carrageenan can cause inflammation and bloating in some people, so many brands are now opting for alternatives such as gellan gum. 
Oils such as canola or sunflower – Ugh, who wants oil in their milk? Yet some varieties add oil as another kind of thickener.
While having any of the above doesn't necessarily kick your favorite alternative milk off the list, check for comparable brands with less of these ingredients. And, really, your best bet it to lose the added sugar.
Happy sipping!