Flexitarian diet provides best of both worlds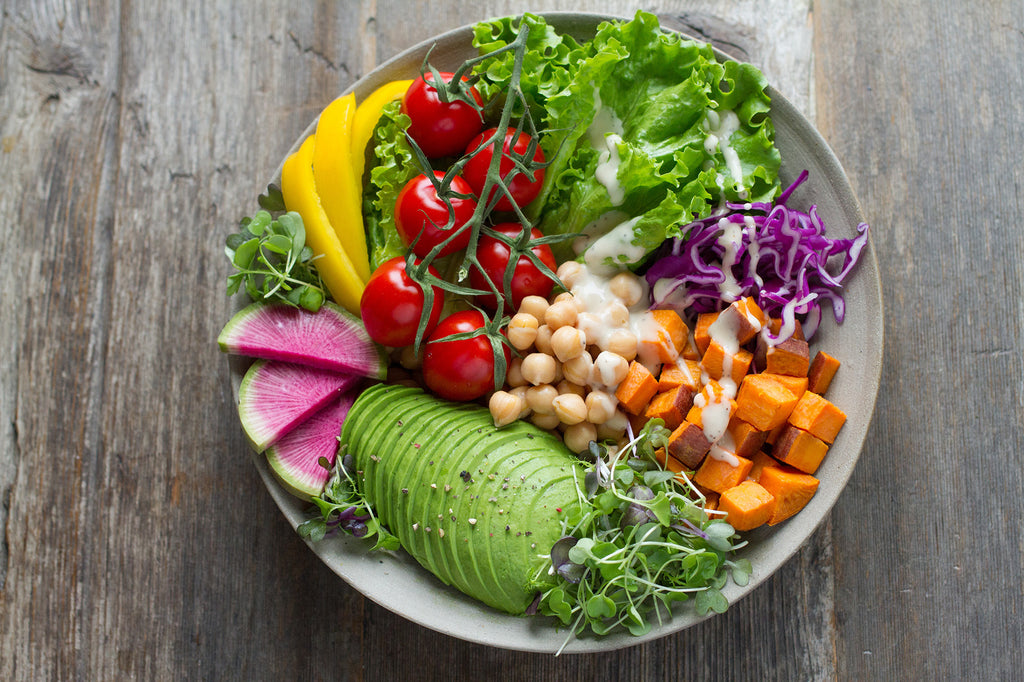 Being committed to healthy, planted-based eating doesn't have to be an all-or-nothing proposition. That's why the Flexitarian lifestyle may be just what you've been looking for. 
Flexitarian, a term coined by dietician Dawn Jackson Blatner, is sometimes also called "semi-vegetarian" or "plant forward." Whatever you call it, the idea is to pile on the plant-based food choices while still allowing meat at some meals. For many of us, this may be the best of both worlds!
Numerous studies have shown that eating a plant-based diet is good for our waistline and heart health, and may even help prevent cancer. Vegetarians on average weigh less than meat eaters thanks to fiber-rich, lower-calories meals, and vegetarian diets don't contain the "bad" cholesterol that contributes to heart disease. Vegetarians also have a lower incidence of diabetes. Studies have shown that eating a "semi-vegetarian" diet has many of the same benefits.
We can get most if not all of our protein from plant sources – we don't really need all the meat that we as Americans typically consume. But some nutrients are absent or lacking in a vegetarian diet, such as vitamin B12, calcium, iron and omega-3s. Adding an occasional source of meat can help in getting these important nutrients, which is an added benefit to this way of eating.
Choosing a mostly plant-based diet is also easier on the Earth. It takes far less energy to produce agricultural crops than it does to raise animals for meat products. We've been seeing how this takes a toll on our planet as the forests of the Amazon are burned in order to clear land for cattle ranching.
How to live like a Flexitarian
The health benefits and a concern for our environment are  both great reasons to focus on a diet filled with fruits and veggies, but you might be wondering what does eating Flexitarian really look like?
Along with plenty of produce, this way of eating focuses on whole grains, beans, and legumes. What it's not is a gluten-free/paleo/keto way of eating – but that's not to say that these diets can't be complementary to each other.
A Flexitarian diet also limits added/refined sugar and processed foods. And don't try to create an unhealthy work-around by loading up on items that are technically vegetarian but still not all that good for you. I'm looking at you pumpkin scones and cheesy fries! 
In Jackson Blatner's book, she suggests trying out the Flexitarian lifestyle by aiming for eating vegetarian-only meals two days a week, eventually moving up to as many as five days a week. Or, you can try Mark Bittman's VB6 approach: Eat vegan before 6 p.m.
When you do add meat to your diet, add it in small quantities and choose better quality. Choosing sustainably raised meat and fish are better for the environment and often have higher nutritional value. You'll likely pay more for these products, but since you're consuming less the cost should balance out.
Meal ideas to get you started
Looking for some ways to ease into the Flexitarian lifestyle? Here are a few tips:
Breakfast is a great time to load up on whole grains. Try muesli, a traditional Swiss-German cereal packed with oats, nuts or seeds and dried fruit. Pour on your favorite milk alternative. 

Swap out the chicken or beef for black beans in your taco salad. 

Stock up on snacks such as nuts and seeds to replace the crunch you're missing from your favorite chips.

Load up your dinnertime stir fry with double the vegetables you usually add. You don't need to reduce the amount of meat since you've changed the ratio of veggies to protein. Or try tofu for a plant-based protein source.

Roasted vegetables are so satisfying on their own, you might not even miss a serving of meat along with them. Best bets include cauliflower, carrots, onions, squash and golden beets.  


Photo by Anna Pelzer on Unsplash