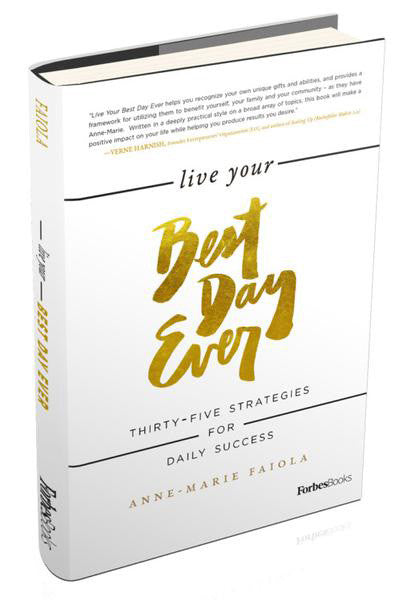 Live Your Best Day Ever: Thirty-Five Strategies For Daily Success
This option is currently sold out.
Live Your Best Day Ever
Success is something everyone wants, yet it often feels elusive. How do you get it? And once you get it, how do you stay at the top? This book is a practical guide for achieving what you want in life―and doing it in a way that doesn't burn you out, break your integrity, or steal from your personal and family time. The secret is living a habit-based lifestyle coupled with a shift in mind-set. Broken down into bite-sized, achievable pieces, it's easier than it sounds. Deliberately designed to be part factual information, part personal-application guide, and part inspiration for further thought, Best Day Ever is divided into thirty-five easy-to-digest chapters that will tell you how to use your power and resources more effectively.
Author Anne-Marie Faiola has been in the trenches, launching and bootstrapping a multimillion dollar business while also raising a family and being an active community member. Her experience has allowed her to systemize a style and philosophy of working, living, and thinking that empowers her success. In this book, she's sharing everything she's learned, so you can pick and choose strategies to boost you to a higher level―or even set you on an entirely new and exciting trajectory. Stop relying on luck. Plan for success.
Choose to be happy!