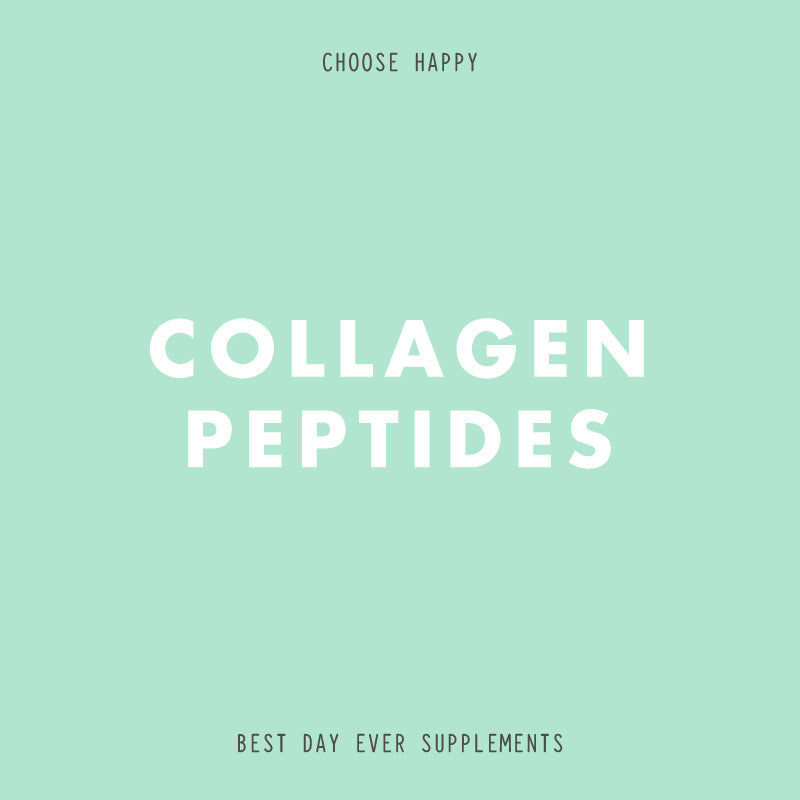 Collagen Peptides, 20 oz
This product is currently sold out.
Collagen Peptides are an essential part of the Best Day Ever Best Coffee Ever recipe. Use two scoops of this odorless, tasteless bio-available form of protein in your morning coffee to get 18 grams of high quality protein building blocks called 'amino acids.' Our collagen peptides are sourced from grass-fed, pasture-raised bovine hides in Brazil. This ancient nutrient ensures the health and vitality of your skin, hair, tendons, cartilage, bones, and joints. These natural peptides can be added to hot or cold liquids, smoothies, eggs, muffins, oatmeal, soups, sauces, and more! Collagen peptide promotes youthful skin, stronger nails and more lustrous hair. It helps to keep bones and joints strong and healthy and contributes to a healthy diet and sleep quality. This product is kosher.
Serving Size: 2 Scoops

Amount Per Serving:

72 Calories

Calories from Fat 0

Sodium 108 mg

Total Carbohydrate 0 g

Protein 18 g

Amino Acids

Amount Per Serving:

Alanine 1/462 mg

Arginine 1,517 mg

Aspartoc Acod 1,192 mg

Glutamic Acid 2.239 mg

Glycine 3,719 mg

Histidine 144 mg *

Hydroxylysine 217 mg

Hydroxyproline 2,058 mg

Isoleucine 271 mg *

Leucine 524 mg *

Lysine 614 mg *

Methionine 108 mg *

Phenylalanine 379 mg *

Proline 2,076 mg

Serine 614 mg

Threonine 343 mg *

Tyrosine 90 mg

Valine 433 mg *

* Essential Amino Acids
Gluten Free, rBGH Free, Non GMO.
Animal Statement: Vital Protein's cattle graze on lush grasslands in Brazil and are not given hormones, steroids, or antibiotics. They eat their natural diet – grass, and receive plenty of open space and sunshine. We believe in providing our animals with an environment that nature intended, and the result is a high quality protein that is natural and pure.
These statements have not been evaluated by the Food and Drug Administration. These products are not intended to diagnose, treat, or prevent any disease.